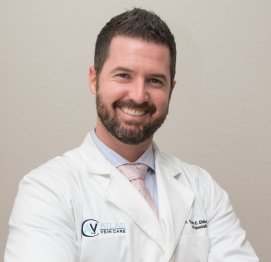 Dr. Thomas E. Eidson, D.O. is a board certified physician holding a board certification in Family Medicine through the American Board of Osteopathic Family Physicians and is certified as a Diplomate through the American Board of Venous and Lymphatic Medicine (Phlebologist). Dr. Eidson has successfully completing rigorous training and comprehensive testing in each of these medical specialties. Even though Dr. Eidson has a board certificate in Family Medicine, he does not practice Family Medicine. Dr. Eidson is a Vein Specialist (Phlebologist) and his entire practice, Atlas Vein Care, is solely focused on treating and healing all Venous and Lymphatic issues in the legs.
What does a Phlebologist do? Great question! Phlebology is the specialty of evaluating and treating vein problems in the legs. Vein problems have a vast array of symptoms that can include venous stasis ulcers, varicose veins and spider veins, leg & ankle swelling, skin darkening and skin discoloration, leg pain, leg fatigue, night cramps, restless leg syndrome, night cramps, skin breaking down and open skin wounds and open ulcers on the legs. Even if you experience only one of these symptoms, you might be suffering from Venous Reflux (vein problems). Venous Reflux is easily diagnosed with a simple and painless ultrasound performed in our office. Venous Reflux occurs under the skin and the major culprits are the small or great saphenous veins. Once Venous Reflux is diagnosed in these veins, it can be easily treated in our office so you can get back to living your life symptom free.
How does a doctor get certified as a Phlebologist? A Phlebology certification requires documented experience in treating and evaluating Venous Reflux/Venous Insufficiency in the legs. Doctors that meet this criteria can receive certification by passing a test by the American Board of Venous and Lymphatic Medicine. This is a privately owned company committed to maintaining the highest standard of care for Vein Disease. The American Board of Venous and Lymphatic Medicine certifies physicians as "Diplomates of the American Board of Venous and Lymphatic Medicine" which is the standard set by the American Board of Medical Specialities. Doctors with this designation have completed rigorous criteria to sit for and pass this exam.
Dr. Eidson completed his fellowship in the treatment of Vein Disease (Phlebology) in December of 2011 and he has safely and successfully performed thousands of procedures. He is passionate about providing the safest, most advanced, and most compassionate care for those suffering from vein problems from the purely cosmetic to the medically significant.
In 2017, 2018, 2019 and 2020, Dr. Eidson and Atlas Vein Care received the highest honor in our community by being voted Best Vein Doctor and Best Vein Clinic from Living Magazine and Arlington Today Magazine in the Arlington, Mansfield, and Grand Prairie area. We feel very blessed and humble to accept this recognition. Thank you to all those that voted for us. Our goal is to continue this legacy by consistently providing the best care to everyone that walks though our doors.
Dr. Eidson was born and raised in Arlington, Texas and his family has cared for the citizens of Arlington and surrounding communities since 1986 and he is continuing his family's legacy. In his down time Dr. Eidson enjoys spending time with his wife and family, volunteering for his church, fishing, hunting, and hitting the weights at the gym.
Dr. Eidson is an active member of several medical associations including:
American College of Phlebology
Texas Osteopathic Medical Association
American College of Osteopathic Family Physicians
American Osteopathic Association
What is it like working with Dr. Eidson?
Dr. Eidson was voted the best Vein Doctor in Arlington, TX by Living Magazine Readers' Choice for
2017, 2018, 2019, and 2020.