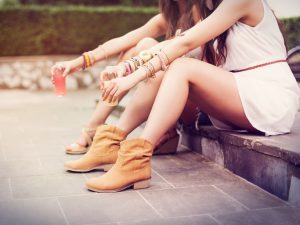 If you are in a career that involves standing all day long or if you have to take an exceptionally long walk to work, then you know just how achy all of that standing and walking can be on your legs and varicose veins. To ensure that you stay as comfortable as possible, make sure to invest in some shoes that will give your legs and feet the proper support. From booties to running shoes, this article will discuss three shoe trends to be on the lookout for this fall. Read on to learn more.
Booties
Booties go with just about anything: leggings, jeans, shorts, skirts— you name it. And, as long as they don't have too much of a heel and have enough arch support, you should be able to stand in them for hours without feeling any discomfort. When buying booties, try to invest in an all leather pair that has custom insoles— these will conform to your foot and make them a lot more comfortable.
Tennis Shoes
Brands like Adidas have made a big comeback in the fashion department by making the average tennis shoe look cool again. Paired with a pencil skirt, dress, or even dress slacks, tennis shoes are a great way to stay comfortable while still looking chic and professional. Plus, they will make your feet thank you a million times over at the end of the day.
Running Shoes
The great thing about this falls trends is that running shoes are considered to be a fashion statement. Paired with some skinny jeans or some black leggings, running shoes can easily dress up virtually any outfit— plus, they will save your feet.
The great news about this year's fall fashion is that you don't have to be uncomfortable to be fashionable. By having the proper foot and arch support, you can stand longer and feel few varicose veins symptoms in the process. To learn more or to schedule an appointment, contact Atlas Vein Care today!