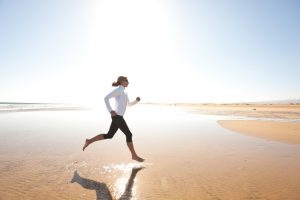 Having varicose or spider veins can make you feel so self-conscious about your legs that you'd rather curl up in a blanket than ever step outside. However, staying sedentary may be doing your varicose veins more damage than good. A lot of our patients ask if exercise is okay to do and if so, what kinds of exercises are okay? To help you better understand how exercise plays a role in varicose vein recovery, we have created a brief article. Read on to learn more.
Is Exercise Okay to Do?
Before we even consider laser or surgery to treat your varicose veins, we encourage all of our patients to try to lose excess weight and exercise more frequently. Exercise helps to pump the blood from the legs back up the heart— increasing blood circulation and minimizing vein disease in the process.
What Kinds of Exercises Are Okay?
The main goal of exercise to help with varicose veins is to get your heart rate up and your blood is circulating. That's why we encourage our patients to try cardio workouts like walking, running, using the elliptical machine, or biking. Remember that as long as you keep moving and keep your blood flowing, you are more likely to get rid of your varicose veins.
What Kinds of Exercises Should I Avoid?
There are some exercises that can restrict blood flow from the legs to the heart and cause more discomfort than relief. Some of these exercises include weight lifting, yoga, lunges, abdominal crunches, and sit-ups. Remember to always listen to your body. If you are experiencing any pain or discomfort while you're working out, take a break and try something else.
One of the best ways to treat varicose veins is to get enough exercise. However, you want to ensure you're getting the right type of exercise. To learn more about varicose vein treatment or to schedule a consultation, contact Atlas Vein Care today!